Professional pool table refelting in Culpeper
Contact our experienced team of technicians at Culpeper pool table repair if you are looking for a professional pool table refelting service or any other pool table repair. We guarantee the workmanship on our services plus the pool table felt against tears or manufacturers defects for an entire year. The cloth should be provided by us for this guarantee to be valid. Give us a call to schedule your service!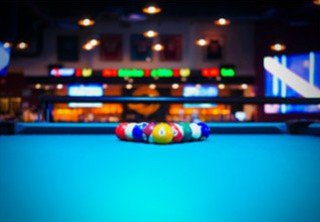 Professional pool table refelting services provided in Culpeper and surrounding areas. Guaranteed pool table repair services backed by the only guarantee in the area issued by a national organization. If an issue related to our work arises within 12 months after we complete the service. Rest assured we will come back and fix said issue at completely no cost. We also guarantee the quality of the pool table felt we provide with the service.
Our trained professionals also take care of complete pool table moves on a regular basis. This involves the proper tear down, safe loading and transport of the pool table in pieces and professional pool table setup with accurate leveling. If you need to schedule a complete pool table move service of a used table, you should consider pool table refelting as it may be necessary. This is because in most cases the existing cloth is already worn or too old.
Most of our customers choose replacing the pool table felt with new material at the time of installation. You have a wide variety of colors to meet your decorative needs, this in either standard or upgraded pool table felt. Our services and pool table felt are warranted for an whole year! Contact us today to schedule your service. We can usually get you taken care of within a week.
Pool table refelting should be done by skilled pool table movers
When you have a pool table with torn felt or perhaps it is too old and you want your pool table to offer the best playing experience, the best way to go about this is to have a team of skilled technicians replace the pool table felt. This task is rather complex and should always be performed by experienced pool table movers. This is because even if you find a company that can move your pool table, the replacement of the pool table felt is intricate enough so that if the technicians have little to no experience, the felt could end up torn and you will then need to buy an additional cut. Also the felt could end up wrinkled up or with bubbles from not being stretched out correctly. We have decades of experience performing pool table services in the billiard service industry.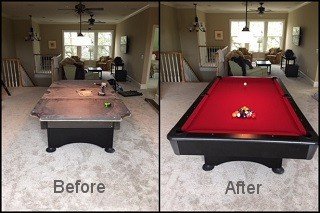 The process of refelting should be done by a professional refelting service like ours. We have all of the necessary refelting tools and equipment to get your pool table refelting service taken care of in a couple of hours. We value your time and with this in mind, I have to mention that replacing the pool table bumpers of your table is time consuming because of the methodical nature of the process and also because is taken care of in 2 appointments.
Please let us know if you notice your pool table bumpers are not as responsive or if they have an irregular bounce. You may have to replace the pool table cushions at this time which would be ideal. If this is the case, we strongly advise that you do this along with the refelting service, since replacing the rubber on the rails of the table renders the covering cloth unusable. Taking care of these two services in one shot will save you money on the long run and you will have practically a new pool table.
Guaranteed pool table refelting services
We are the only company in the area that is authorized to issue a guarantee in writing which is backed by the American Billiard Installers Association. We guarantee the workmanship and the pool table felt we provide with each pool table refelting service. We can expertly take care of the pool table setup with level and pool table refelting as well. If you just purchased your pool table we can also take care of the complete move as well.
Most of our customers choose to refelt their pool table at the time of assembly, since this happens to be the best time to have your pool table refelting service taken care of given that the pool table is in pieces. Keep in mind all of our services and pool table felt used are backed by an exclusive guarantee from a National organization.
When we're all finished you're all ready and playing pool on your new felt. You can choose from a list of colors for three lines of cloth that we supply to our customers.
Difference between pool table felt options
There are differences between standard cloth and upgraded worsted material. The upgraded cloth undergoes a different manufacturing process which gives it a very smooth and durable finish instead of the fuzzy texture. The worsted felts play much faster and give the player a more responsive and different gaming experience. You can have your pool table refelting done in either material. We just need to know the pool table dimensions of the playing surface to get the right cut of felt since our provider sends pre cut material for each service.
(Opens in new window)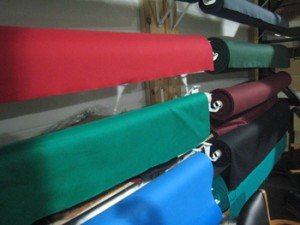 Teflon coated to provide stain resistance. Standard felt is what is most commonly found on pool tables and is generally what is offered with all new pool tables. The texture is a little "fuzzy" and is the slowest of the materials which makes it also the most economical of the options.
Simonis worsted pool table felt choices
(Opens in new window.)
Standard worsted non brand colors
(Colors may be limited, contact us to get current colors available.)
Call the Culpeper Pool Table Repair services if you're looking for the best!